The Nicotine Patch - Use it Correctly
And It Just Might Work!
When I gave up smoking seven years ago I decided to try the nicotine patch. I had tried it before but had never followed the pathway that is suggested. When you use this form of nicotine replacement therapy it is extremely important (in my opinion) to talk to the pharmacist and discuss which strength of patch you need to start with, how long you should use that strength of patch before moving on to the next level of nicotine and whether you should use a 24 hour patch or a 16 hour patch.
The nicotine patch is a transdermal patch (dermis=skin) that adheres to the skin allowing nicotine to be absorbed by the skin and into the system so as to prevent nicotine withdrawal symptoms and therefore, hopefully allowing the smoker to quit more easily. The patches come in different strengths of nicotine levels and can be transparent or beige in colour. They can be worn for 24 hours or 16 hours.
Years ago when I decided to use patches I didn't want to talk to anyone who might know what they were talking about; I knew best and I just grabbed some patches and started using them. I chose the 24 hour patch and it was such a bad choice for me. Having the patch on at night while I was sleeping meant that I had the most vivid dreams. They were action packed and in full colour and I was absolutely exhausted in the morning because I was tossing and turning all night.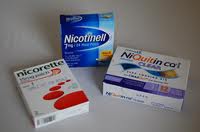 After that I decided perhaps I should use one of the patches that is removed at night so I bought some, still without asking someone what strength I should be using. The thing about smokers is that they kid themselves and others about the quantity they smoke per day and just how bad their addiction is.
So, when I was selecting a nicotine patch for me I told myself that I only smoke a mild cigarette anyway and didn't really smoke that many cigarettes so I will just have a patch containing a couple of milligrams of nicotine. Consequently, I was having a really hard time with nicotine withdrawal symptoms and it wasn't long before I was smoking again.
Using a nicotine patch wasn't my first attempt at quitting, the first time I tried to quit using a nicotine replacement therapy, I tried nicotine gum which wasn't too bad because it gave my mouth the taste that it wanted but I went back to smoking one night when I was having a glass of champagne and the gum just didn't go well with it. I then tried the nicotine inhaler but I found it to be awkward and clumsy. If the electronic cigarette had been available when I was trying to quit I would definitely have purchased it but I am not sure if I would still be using it or if eventually it would have helped me quit.
One thing I did like about the gum was that because I always had something in my mouth I didn't have the issues about gaining weight that is a down-side of quitting.
There are many brands of nicotine patch on the market and it is possible to buy pretty much anywhere now even in the supermarket. And - the great thing is that they are a lot cheaper now than when they first came out!
You will have a better chance at success with these if you follow the instructions and the program suggested. Be honest with yourself about how many cigarettes you smoke each day and what strength. Follow the pathway set out; for example if it says use a certain strength for two weeks before dropping down to a milder nicotine patch then do it! Stick to the plan and this may be the answer for you.
Related Pages;

The Electronic Cigarette.
Nicotine Gum.
The Nicotine Monster.
Reasons to Quit Smoking.
Hypnosis.
Anxiety.
Return from "Nicotine Patch" to "How to Quit Smoking"